China litigation trends: A data deep dive
08 Jun 2018
In 2017 China's courts handled more trademark infringement cases than the local administrations for industry and commerce. With the enforcement landscape evolving so rapidly, analysis of litigation data can provide unique strategic insight into brand protection efforts.
Despite the often-publicised challenges facing IP protection in China, there have been many encouraging developments in recent years. Chinese courts are becoming increasingly sophisticated in handling complex IP disputes, while foreign rights holders continue to engage successfully with – and test the boundaries of – the system. This ongoing interaction is producing rapid growth and an increasingly refined IP protection tool. Analysis of litigation data can be used both to evidence this trend and to inform brand protection strategies going forward.
Encouraging developments
Traditionally, foreign rights holders would bring claims before so-called 'friendly courts' in the first-tier cities of Shanghai, Beijing and Guangzhou. Now, there is an emerging trend among rights holders to consider the courts in second-tier cities (eg, Suzhou, Hangzhou and Nanjing) as preferred venues. This is in part due to the efforts made by these courts to build their reputation and compete with their peers in the first-tier cities. Indeed, judges in second-tier cities will occasionally issue more cutting-edge and creative judgments than those handed down by more established venues.
The recent government reorganisation also aims to integrate and streamline IP administrative enforcement. The newly established State Administration for Market Regulation (SAMR) aims to replace and combine the enforcement functions previously carried out by the State Administration for Industry and Commerce, the General Administration of Quality Supervision, Inspection and Quarantine, and the State Food and Drug Administration, as well as antitrust enforcement previously carried out under the auspices of the Ministry of Commerce and the National Development and Reform Commission. The SAMR is now the single enforcement agency for trademark, patent, geographic indication, unfair competition, product quality and antitrust matters. The merger has enabled rights holders to bring various causes of action before a united agency. The one remaining outlier is copyright enforcement, which continues to be carried out by the Copyright Office and local cultural enforcement teams.
In line with the increasing sophistication of the administrative and legal apparatus surrounding enforcement, rights holders are also seeing a shift in IP infringement from counterfeit and pirated products (although these remain rampant in some regions) towards lookalike products. Many of these products avoid obviously copying protected assets while maintaining sufficient visual cues to connect them to the original. In these cases, administrative enforcement is limited and brand owners must rely on the courts to play a leading role in protecting their IP rights. Along with increasing damages, good win rates and a faster process, the courts are proving a viable enforcement mechanism and acting as a greater deterrent.
Challenges still to face
Despite these developments, many challenges remain. Chinese courts have become some of the busiest in the world – an IP judge may handle hundreds of cases each year, with limited time to thoroughly assess the evidence and merits of the claims before them. This could explain why persuading a court to accept a case has become a difficult stage in many civil proceedings.
Enforcing judgments also remains problematic – although the Supreme Court has imposed onerous consequences on parties that shift their assets beyond the reach of the authorities. Such measures include blacklisting and barring individuals from taking airplanes and first-class trains.
In addition, there remains a lack of consistency in determining infringement. The establishment of specialised IP courts (or IP tribunals) in 18 cities has helped to standardise practice; however, these courts primarily handle technology-related cases involving patents, rather than trademarks (unless a well-known mark is involved). Therefore, the potential to harmonise their influence has been limited. Complex issues (eg, the status of original equipment manufacturer activity) still vary from court to court – even where the Supreme People's Court has issued clear judgments on similar or identical issues.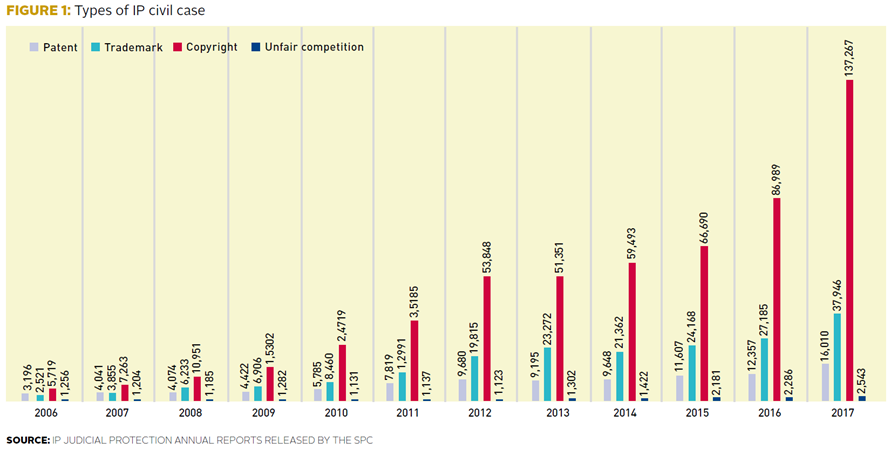 Trendwatch
Sharp increase in IP litigation cases
The data reveals an inflexion point in 2017, with the courts handling more trademark infringement cases than the local administrations for industry and commerce. Indeed, Chinese courts accepted 37,946 trademark infringement cases at first instance – a 40% increase on 2016 and exceeding the 30,100 trademark cases handled by the administrative agencies in the same year. This was a remarkable development given that just 10 years earlier – in 2007 – only 3,855 trademark cases were filed with the courts.
Further, Chinese courts accepted a total of 201,039 IP civil cases at first instance. In the past five years, IP civil cases have increased on average 19% year on year. Most of these cases (68%) have been copyright disputes, with trademark cases accounting for 19%.
In addition, most IP civil cases involved domestic companies, with only 2% to 5% of cases involving foreign parties. Instead, foreign parties tend to be more active in appealing registry decisions via administrative litigation. For instance, 28% of administrative appeal cases heard by the Beijing IP Court in 2016 involved foreign parties. Although foreign parties are usually plaintiffs, the number of cases involving foreign defendants is on the rise, as domestic companies are becoming more aggressive and sophisticated in their IP strategies. In particular, domestic companies are increasingly filing suit in order to seek non-infringement declaratory relief in response to warning letters issued by brand owners.
Mass litigation and the most litigious trademark owners
Some Chinese and foreign brand owners have adopted the strategy of initiating a large number of simultaneous proceedings against a group of infringers where the disputed infringement is clear and straightforward. This is particularly effective in the context of multiple sellers in shopping malls. The granted damages against each defendant is small, but collectively the total damages may be significant. Some of the most litigious brand owners listed in Tables 1 and 2 have applied this strategy, which results in large filing numbers. As such, the mass-litigation approach is a growing concern for many courts, some of which are now declining to accept such cases.
The most litigious Chinese trademark owner is Shanghai Jihwa United Shareholders – a publicly listed company specialising in skincare, personal and household care products. It adopted the mass-litigation strategy as a means of seeking injunctions to protect its core brands. As no significant damages were awarded, it is unlikely that these were a driving factor behind the approach.
Puma is the most litigious foreign trademark owner, having filed numerous suits against small targets to create more of a deterrent against infringement than administrative action.
Plaintiff win rates
Based on official reports, plaintiff win rates in IP civil cases are generally high – at around 70% to 80%. In addition, foreign parties tend to have higher plaintiff win rates.
Top venues for infringement proceedings
Most IP cases are filed with the courts in developed regions such as Beijing, Shanghai, Guangdong, Zhejiang and Jiangsu – accounting for around 66% of total IP civil cases nationwide in 2017.
Increasing damages
Damages granted by the courts in IP civil cases have been increasing gradually since May 2014, when the Trademark Law - which increased the statutory damages from RMB 500,000 to RMB 3 million - was amended and implemented. In some cases, a court may even grant damages that are higher than the statutory damages if it is convinced by supporting evidence. For example, in a 2016 trademark infringement and unfair competition action filed by Hugo Boss, the Shanghai IP Court granted damages of RMB 4.92 million (approximately $780,900).
The amendments to the Trademark Law have also enabled some courts to grant punitive damages in trademark infringement actions, although in practice such awards are rare.
Overall, the magnitude of damages remains relatively low in most cases, partly due to the difficulties in proving the illegal profits of infringers. Courts in developed cities generally grant higher damages than those in less developed cities, particularly if the case involves a well-known mark. In 2016 the Beijing IP Court granted average damages of Rmb2.2 million (approximately $349,200) in cases of well-known trademark infringement.
Preliminary injunctions
Previously, Chinese courts would rarely grant preliminary injunctions because the practice is strictly to apply the 'irreparable harm' test. However, this has begun to change over recent years, largely due to procedural changes allowing for a preliminary injunction request to be filed after the main case is filed (an injunction granted at the proceedings), as opposed to the traditional pre-filing injunction. The courts are generally more willing to grant a preliminary injunction at the proceedings because they have more time to fully review and respond to the request. Conversely, a court must issue its ruling on a pre-filing injunction request within 48 hours.
In 2016 the Shanghai IP Court granted preliminary injunctions (along with evidence/asset preservation orders) in 216 cases, among which only 30 were pre-filing injunctions (along with evidence/asset preservation orders), while the remaining 186 were injunctions (along with evidence/asset preservation orders) granted at the proceedings. In one high-profile litigation case handled by the Suzhou Intermediate People's Court, plaintiff New Balance successfully obtained an injunction at the proceedings and the court imposed a significant fine of Rmb1.7 million (approximately $269,800) against the infringer, which had copied the 'N' device mark on its sports shoes.
Duration of court proceedings
Most trademark infringement cases are handled at a blistering pace. The percentage of concluded cases among the total number of filed cases is a key performance indicator for courts, which usually aim to finalise their target caseloads before the end of each year.
For cases involving domestic parties, courts will generally conclude first-instance proceedings within four to six months – the maximum timeframe permitted under civil procedure law. However, for cases involving foreign parties, the time limit imposed by civil procedure law does not apply and in practice the length of proceedings tends to be much longer. For this reason, some foreign rights holders will initiate proceedings through their authorised Chinese subsidiary in order to take advantage of the faster docket.
Conclusion
The increasing sophistication of the China IP ecosystem has produced better tools and fresh challenges for brand owners. As new infringement and litigation trends have begun to emerge, brand owners have adjusted accordingly – leading some to reexamine their approach to enforcement in China and find value in litigation as a strategic tool. Indeed, the data suggests that parties are responsive to the developing risks and opportunities presented by the evolving system.
While some challenges persist, and as the courts grapple with their burgeoning IP caseloads, it is hoped that the ongoing development towards an effective and user-friendly system will continue.